---
Dan Brown's The Lost Symbol and The Da Vinci Code opened the world's minds to magic in the street plans of DC; Would you like to know the truth? Backed by the longstanding principles and understandings of mathematics, geometry, astrology, ancient Egyptian mythology, and the documented meanings of cryptic (Masonic) symbols, a secret geometric code is revealed within the layout of our nation's capital in astonishing detail. This in-depth analysis of Washington D.C. explores various aspects of the federal city's design, including the city's art, architecture, astrology, history, and esoteric symbolism, all in search of clues to unlock this secret code, The Vitruvian Code. This elegant, yet profound geometric code has never been explored in any previous literature, simultaneously solves multiple age-old mysteries, and has the potential to shake the very foundations of all that we have been led to believe about our origins, our past, our present, and even our future.

You may not have heard of Robert Homrich but, you will. Friend him on Facebook
---

Rob Homrich presents The Vitruvian Code, a profound geometric code that solves multiple age-old mysteries, and has the potential to shake the very foundations of all that we have been led to believe about our origins and our future. Listen to Hour 2
---
Listen on: FreemanTV | Stitcher | iTunes | YouTube | RSS
---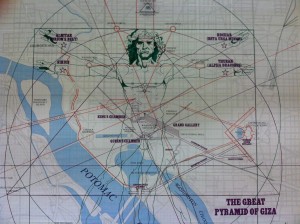 ---
Dedicated to the continued study of the esoteric symbolism and architectural/geometric design of Washington, D.C., author, Robert Homrich's extensive research into the design of our Nation's Capital has branched out into many other related subjects of study, including architecture, astrology, sacred geometry, esoteric symbolism, philosophy, mythology, and secret societies.
Measuring 10' x 10', the highly detailed artwork was completely hand-drawn in unforgiving ink on paper, and features Leonardo da Vinci's "Vitruvian Man" in full human scale superimposed onto a scaled map of Washington, D.C. and a scaled diagram of the Great Pyramid of Giza, all color coded and in perfect unison. The bottom of the artwork features an artist's explanation of The Vitruvian Code, completely hand written, backwards, in the Da Vinci trait known as mirror writing. It was that overwhelming response at ArtPrize 2013 and the countless inquiries for literature on the subject that has inspired him to write a book explaining his hypothesis in great detail. On December 21, 2014, he released a feature length documentary film, "Secrets of the Vitruvian Code: The Decoding of Washington, D.C.".
---
Open pictures in new window (ctrl/cmd) click to continue listening.
Secrets of the Vitruvian Code Decoding Washington, D