Listen Live to The Free Zone Saturdays 8pm EST

---

FreemanTV is sponsored by you. Please show your support and help me continue to bring you thought-provoking information.
For 7 years Freeman has created amazing videos on the use of mind control in all facets of our lives. From hand signs of the Illuminati to Obama's "Thank You Satan", Freeman's DVDs will open your eyes to a whole new world order.
---
To order by mail send check to Freeman
P.O. Box 25186
Greenville, SC 29616
---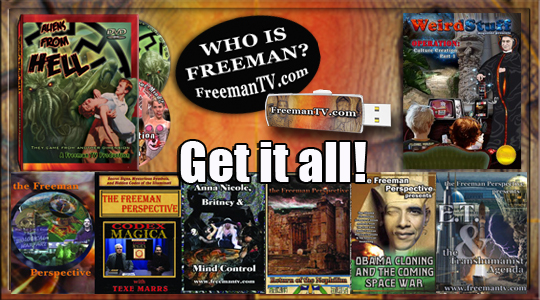 $175.00 shipping included
---
Weird Stuff Part 1 ships separately. Weird Stuff Part 2 is not included and can be ordered here.
---
Weird Stuff is an encyclopedia of the occult in pop culture, politics, and new technologies.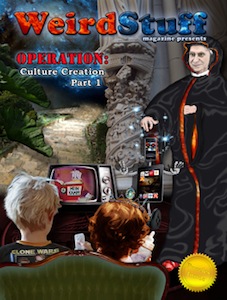 $19.95 Weird Stuff
Operation: Culture Creation Issue #1
Ever wonder why the world is going to Hell in a hand basket? Now you will know! Social engineering starts with popular culture and becomes the belief systems of the next generation.
Weird Stuff is an occult conspiracy encyclopedia in an easy-to-read fully illustrated tabloid magazine format.
Understand the purpose of Lady Gaga performing a blood sacrifice on American Idol and Madonna's use of Kabbalah in Super Bowl High Profile Rituals. Learn the truth about Walt Disney Co. and their connection with the military industrial complex.
$19.95 Weird Stuff
Weird Stuff goes where your minister will not dare! Weird Stuff is more than a book. It is a tool for you to help rehabilitate the minds of friends.
Buy Weird Stuff on Createspace or Kindle
---
---
Weird Stuff ~ Operation: Culture Creation Part 2 on sale now!
---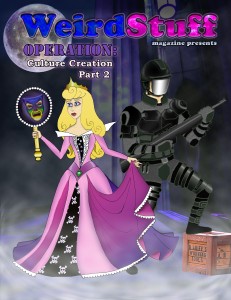 Are You Free or Are You a Slave?
What is the difference between witchcraft, magic, science and science fiction? In Weird Stuff ~ Part 1, we asked, are you a person or are you a product? In this edition we will be discovering who is free and who is enslaved. Which ancient Mystery Schools are making a comeback? Where is the Holy Spirit, and how does this affect Motherhood? Learn why many women have become Crazy Bitches, and what the Royals have to do with it. From Molech to Monarchs, are you suffering from Trauma Based Mind Control? The better question is, who isn't? Have you been possessed by Rock & Roll, Voodoo, or Scientology? See how even world wars, Nazi religion, superheroes, sorcery, and mind control can never overcome LOVE!
---
Weird Stuff Part 2 sells for $25. Receive a %20 discount by ordering here.
---
Inside the US $20 + shipping
Outside the US $20 + shipping
Inside the US $20 + shipping
Outside the US $20 + shipping
---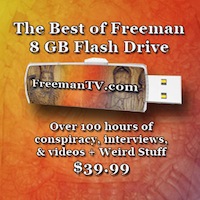 The Best of Freeman 8 GB Flash Drive
$39.99


Now includes Animated Version
of Weird Stuff and Aliens From Hell!


Here's a list of the guests included.


---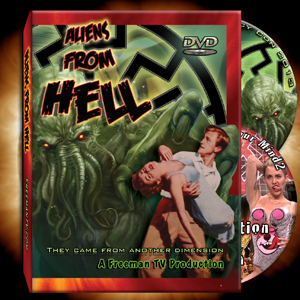 Aliens From Hell and The Satanification of America – $15.99

---
What is the Mark of the Beast?
How does it relate to pop culture, modern technology and ancient magic rituals? This 2 disk set includes Freeman's Free Your Mind 2 and Conspiracy Con presentations.
---
---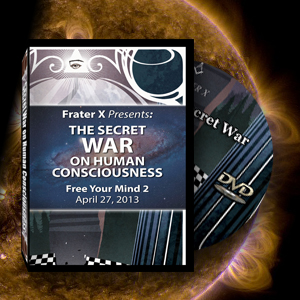 Secret War on Human Consciousness $15
---
Frater X
, an expert in occult sciences and the hermetic arts as well as member of over 9 esoteric fraternal orders, presents this culmination of over a decade of research and experience in a spirited presentation mapping the over-arching theme of the Secret War on Human Consciousness.
---

All 6 FreemanTV DVDS $72.00 Normally $120.00
---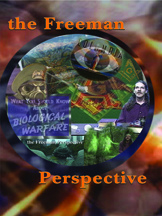 the Freeman Perspective – $11.99 Normally $19.99 Freeman takes you through the doors of Masonic temples and explores the occult meanings of Corporate Logos. With a scholar's observance, he unveils the worship of the Illuminati Goddess, Columbia and then, tackles the more sinister topic of Chemtrails. Freeman assures his position in the info-war movement, with his award-winning documentary on HAARP. Freeman presents solutions based within the creative spirit of humanity.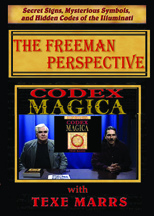 Codex Magica $11.99 Normally $19.99 Prepare yourself for 2 hours of life changing video. Freeman and Texe Marrs discuss illuminati hand-signs and gestures.
Watch Texe Marrs best selling book, Codex Magica, come to life. Explore hundreds of photos of the elite in politics, banking, religion, and entertainment, as Texe and Freeman illustrate their vast knowledge on the subjects of Freemasonry, goddess worship, and occultism. Witness a ritual of witch-craft being performed in the full public view. Understand the meaning behind the kiss of Britney and Madonna. Know that your world is manipulated by occultists.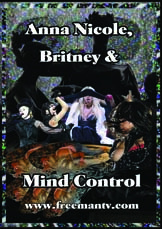 Anna Nicole Britney & Mind Control $11.99 Normally $19.99 Could it be that what we are witnessing in our top pop stars recently is the result of trauma-based mind control? There is a program so grim; its aspects are difficult to talk about. I am referring to Satanic Ritual Abuse. It is widespread and goes to the upper echelons of the world's rulers. Most Americans won't believe that mind control is going on in the "homeland." Well, it is. Many of the rituals and methods employed in the mind control projects are inspired by the ancient mystery schools; blood and sex rituals to their god and goddess. From ancient Babylon to Nazi Germany and on into America, trauma-based mind control has been the modus operandi of the Illuminati.
Join Freeman for a discussion of current events involving Anna Nicole, Britney Spears, Madonna, Walt Disney and much more. Could our top pop stars be mind controlled slaves for the Illuminati. Is Anna Nicole's baby girl an attempt to raise a "moonchild" through an occult ritual? You decide.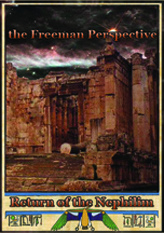 Return of the Nephilim $11.99 Normally $24.99 As in the days of Noah, when the Sons of God came down and took the wives and daughters of men, so too are we now in an age of revelation about our ancient past. Join Freeman on a path down through the ages, as together, we explore the mysteries left encoded in ancient structures and writings and how they affect the world today. Could the New World Order have an ancient past?
Freeman invites thinkers and scholars to discuss the veracity of the ancient astronaut hypothesis. Giorgio Tsoukalos of the Ancient Astronaut Research Center and Michael Tsarion, author of Atlantis, Alien Visitations and Genetic Manipulations, share their knowledge and Freeman meets a Raelian. Dr. Richard Guerrero shares his views as a member of the controversial, extra-terrestrial, Raelian movement. This is 5 hours you don't want to miss folks. Revelation is at hand.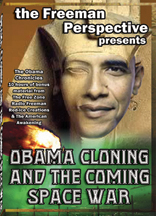 Obama Cloning and the Coming Space War $11.99 Normally $24.99 Who is this man we call the President? Will he cause a Constitutional crisis? What's hidden within his name and his statements? Is he the coming Anti-Christ predicted by Nostradamus? Are we witnessing the rise of the Fourth Reich? Or are things much stranger than we thought? This 2 disk set includes a DVD of Freeman's presentation, Obama, Cloning and the Coming Space War and a CD with 10 hours of Freeman's radio interviews in MP3 format. Explore revelations of Lucifer, occult rituals hidden as political speech, and the acceleration of the weaponization of space for a coming space war.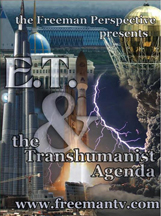 ET & the Transhumanist Agenda – $11.99 Normally $19.99 This DVD is 5 hours and covers the advance of the space war and new technologies coupled with the creation of a New World Order. "Dangerous, profoundly wrong and has no place in our society…" are the words President Obama used to describe human cloning. Was there a covert meaning in this message.
CERN opens dimensions and seeks dark matter in space. A spiraling vortex of sapphire particles opens over Norway as Obama arrives to receive his Nobel Peace Prize. Mysterious missiles launch from coast to coast and the Space War ramps up with the X-37B, an automated military space shuttle and Space X launches the Dragon preparing to meet Robonaut 2 on the ISS.
Are we witnessing the rise of the technocratic elite?
To order by mail add $4 shipping or $15 for all 6
please send check, cash, or money order to:
Freeman
P.O. Box 581
Lawrence, KS
66044
---
The Friend's Market is a place where I can share my friends creative genius and help support our efforts to seek a better world.
Thank you for your support.
---