Russell Brand & Katy Perry:
Divorced by the Devil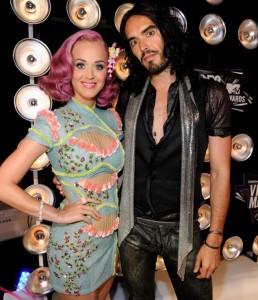 Katy Perry says she "sold her soul to the Devil" and it seems that we professional weirdos are breaking into the mainstream. Stephen Colbert has had Andrew Basiago as a guest to talk about his time with Obama and missions to Mars. Alex Jones appeared on CNN cranking up record views for Peirs Morgan. Cory Feldman is outing Hollywood for pedophilia and Roseanne Barr and Mary Sean Young are publicly speaking out about trauma based mind control. Recently, British actor and comedian, Russell Brand, has had David Icke and Laura Eisenhower on his talk show. Key people with a large outreach are waking up and allowing truth to enter the mainstream media; but they need our support as they try to enlighten their audience and loved ones and sometimes, they pay a terrible price.





In October 2010 Brand married pop star Katy Perry on top of an elephant in Northern India, the same place he had proposed to her just a short time before. The marriage lasted only fourteen months. Is this just another example of Hollywood's cavalier attitude towards commitment or are there other dark forces at work? In February 2011, Katy embarked on the largest tour of her career. The tour was described as "Alice in Wonderland" and "Wizard of Oz," two of the most classic Monarch programming motifs. The year proved to be a tremendous success in the industry for her, but also a showed a devastating personal heartbreak. Katy Perry has been identified as one of the top Illuminati princesses/slaves since her debut in I Kissed a Girl, written and produced by pop mogul Max Martin. Martin has had his hand in just about every slave hit since the mid 90's. He has made superstars out of the Backstreet Boys, N'Synch, Ace of Base, and Britney Spears. He revived the careers of Celine Dion and Bon Jovi. He has written for and produced Kelly Clarkson, Pink, Katy Perry, Usher, Taylor Swift, Justin Beiber, Ke$ha and many more.


From time to time, in the name of research, I am subjected to the torture that is popular culture. Recently, I was made to watch the movie, Katy Perry: Part of Me. The film documents the story of Perry's career as gospel singer, Katheryn Hudson, until the present day as global superstar Katy Perry. Scenes from the movie document her last world tour, the California Dreams Tour. Katy talks about her childhood, where her mother and father are traveling Pentecostal preachers, something she oddly has in common with Aleister Crowley whose parents were members of a strict Christian sect called the Plymouth Brethren. Many times, a strict Christian upbringing can bring about a serous backlash like Katy, Crowley or even Marilyn Manson. When Perry first started recording, she was paired with a team called "The Matrix" to give her a point of entry into the mainstream. They eventually dropped her and she later went on to sign with Capitol Records. Before fame, Katy sang gospel and Christian rock until one day she somehow made that age old deal. According to one interview, Katy states: "When I was 15, because I grew up in a household where all I ever did was listen to gospel music…I swear I wanted to be, like, the Amy Grant of music, but it didn't work out, and so I sold my soul to the devil."


It seems that Katy got the raw end of the deal when the devil turned out to be an actual slave driver. The tour for her album was no joke. It ran a whopping 124 shows in 108 cities in 337 days. The show begins with a video screen introduction which tells the story of a girl named Katy who lives in a colorless world wasting her life cutting meat for a mean old butcher. One night, Perry escapes her dreadful reality by falling asleep and visits a vibrant candy land in search for her pet cat, Kitty Purry and also for the love of her life, the Baker's Boy. Kitten programming is classic trauma based mind control and the most widely used program. This programming is specifically for eliminating the learned moral convictions that Katy grew up with. It stimulates the primitive instincts devoid of inhibitions. This program is for developing the "ultimate prostitute." In the first number, Katy appears on stage and starts performing Teenage Dream, while wearing a white dress with hypnotic spinning peppermints. In one interlude, Perry is shown taking a shortcut that leads her into a candy forest where she meets two naughty mimes who join her to perform a song called Ur So Gay. At the end of the performance, Perry takes a bite of their magical brownie. In the next section, a video interlude reveals that the mimes' brownie has transformed Perry into a cat woman, a plan executed by the evil butcher all along. A song called Circle the Drain is performed while Perry battles her dancers who are dressed as butchers before going into her song about love with inter-dimensional reptilian beings, E.T. The show continues with Who Am I Living For in which she is strapped up by her dancers with elastic strings and is left on the ground defeated. The encore begins with the final interlude of the show, which reveals that Perry has been dreaming/disassociating all along, suddenly the Baker's Boy enters her room dressed in a gingerbread costume to deliver cupcakes she has ordered for breakfast.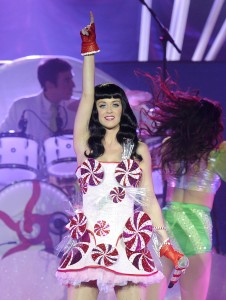 During her marriage to Russell, most of which she spent on her California Dreams tour, the mandate from Katy was to tour for two weeks and then take three or four days off to spend with Russell. Her handlers sabotaged this at every chance. To see Russell, Katy would fly across the world, to New York, L.A., New Orleans…wherever Russell was, just to spend time with him. In the documentary, she runs herself ragged trying to get to where he is. She was committed to him and she describes him as the love of her life. Around day 214 of her tour, Katy looks exhausted as she asks to see a calendar so she can look for her "relationship days," days she had planned to spend with Russell. Her handlers tell her that she should be resting on her days off, not trying to see her husband. During her stop in Sao Paulo, Brazil, Katy is shown weeping backstage. Her handlers attempt to cheer her up by giving her a gift from her "trinkets box" which upsets her even more, it was a necklace given to her by Russell that she thought she had lost. She is still crying heavily until the moment her platform raises her to the stage. When the peppermints start to spin, she puts on her bravest smile for the crowd.
In December, 2011, Russell filed for divorce in Los Angeles citing irreconcilable differences. The pair met when he was filming Get Him to the Greek, and she did a cameo with him. Katy recalls being so happy to be working with Russell that she was hopping like a bunny. Kevin Smith appeared on Russell Brand's show and told the story from his point of view. One day Russell showed up at Smith's house to work on a project but he could not concentrate because he had just met the most amazing woman. Kevin was so touched he had to give Russell the day off to go and be with her. There is no doubt that Russell and Katy were very much in love, so what went wrong? Given Russell Brand's recent taste in guests it is safe to say that he has at least some sense of reality and a quest for the truth. Is this why Katy's handlers tried so hard to keep them apart? Was Russell feeding her information that the powers didn't want her to be aware of because they needed her? According to interviews Katy Perry was having a profound positive effect on Russell as well—something the controlling occultists could not tolerate. Katy told Esquire Magazine that she had reformed the former sex addict, who according to rumors used to sleep with up to 80 women a month. "He was a heroin addict and now he's not. He was addicted to all kinds of things and now he's not. And he basically used to be a professional prostitute and now he's not," she said. Brand also seemed to be perfectly comfortable with monogamy. "I am living in a different way at the moment. Regardless of what happens in my current situation," he said. "I am unlikely to be satisfied with the calamitous promiscuity of the preceding five or six years." He went on to say that monogamy is not the only change he's made since getting sober, he was living a much healthier life overall. "I'm living in a disciplined way, do lots of yoga, exercise and transcendental meditation."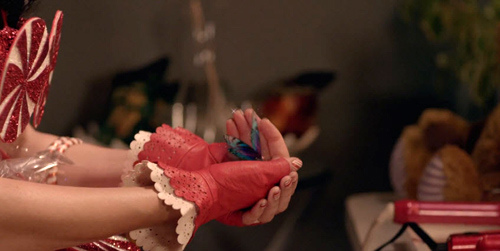 After the divorce, in interviews of Katy, the mere mention of Russell puts her in tears instantly. Her fairy tale had been destroyed. Her 2012 hit, Wide Awake, (another Max Martin song) conceals many references to Monarch programming within its symbolism. It is a story of her thinking she has "woken up" and escaped, but in the end we find the story conveys that this is never possible. At the beginning of the video, we see Katy completing the filming of her single California Gurls, which is based on the board game, Candyland. This candy theme is no doubt part of Katy's personal Monarch programming and Candyland appears in a list of internal structures found in recovering mind controlled slave, Cisco Wheeler. In the beginning of Wide Awake, Katy is fully into her "pop star" persona. When she enters her dressing room, she removes her wig, which symbolically represents her switching to another alter. Katy then stares at herself in the mirror for a while until she begins to dissociate from reality and enter a fantasy world. This is the inner-world of her psyche and it is a dark labyrinth. She knows that she won't make it through the maze without the one who has been stripped from her during the programming--her core persona. Through lights emerging from her breasts, she makes a call for help and her core appears before her in the form of a young Katy. It is the "real her" before her values and convictions were taken away. The little girl is the personality she had before being subjected to programming. Katy and her core then enter a room designed in classic Monarch trigger decor and her dress is made of butterflies. Through the mirror, she sees the evil paparazzi. Katy breaks the mirror in front of her and leaves the room, a symbolic act representing her attempting to break out of her programming. Then next scene is a ghoulish contrast to the rest of the video. She is now in a cold, sterile mental institution. We appear to be out of Katy's head and back to reality. She is completely "shut down" sitting in a wheel chair. Is this her MK Ultra programming site? While Katy is immobilized, little Katheryn, is "Wide Awake" and is determined to get out of there.


Upon escaping the institution, Katy and her core persona find themselves back in the fantasy land. A cat with hypnotic eyes is a reminder that she is still one of their "kittens" and under the control of her handlers. The butterflies on Katy's head also symbolize this. Katy then "defeats" her fairy tale prince charming by delivering a powerful punch. Was this supposed to be Russell? At this point, little Katheryn gets on her bike and leaves. The core, authentic persona of Katy says goodbye and leaves in her place only a butterfly. The butterfly leads from the dressing room to a stage, before a performance of the song Teenage Dream. Katy has gone full circle and is back at the beginning, in her pop star persona, who she really is now. The real Katy has disappeared and she is merely a puppet of the music industry and a mind controlled slave. Wide Awake represents the false rebellion that so many others like Britney Spears went through, but ended up right back in slavery. At this time, Katy Perry is halfway done with her new album called Schizophrenic.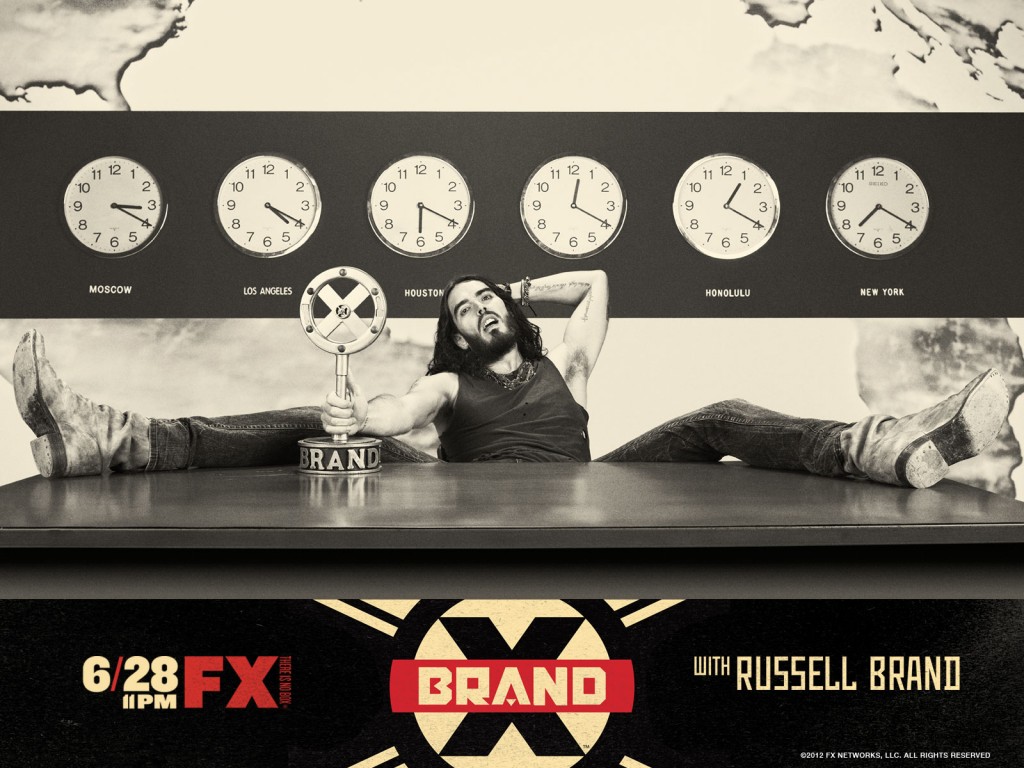 In one final twist, it seems the devil has left his mark on Russell Brand's career as well. The symbol for his show, Brand X, is the actual Mark of the Beast. Although I doubt Brand chose the symbol based on esoteric knowledge, Satanic forces dominate Hollywood and many stars are extinguished on the path to global domination. Our entertainers and artists need us now more than ever to help escape their inescapable prison. If you really love your celebrities, share your information!