Are we creating trauma where there is none? Mainstream media is pushing an agenda demonizing sex victim, Milo, while ignoring deep state pedophilia. What do you do when you don't know you are under mind control? How will we get back to nurture? Is the Feminist Movement feminine? Even if the media says that Donald Trump is killing puppies, can we have any hope in the new President? Find out what it is like to be a Presidential Mind Control Slave.
Visit Trance-Formation.com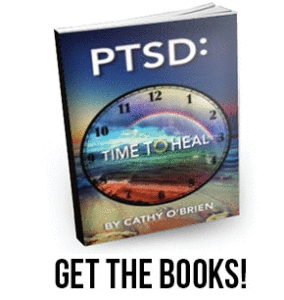 Cathy O'Brien
is a nationally and internationally recognized US Government Whistleblower on the subject of MK Ultra mind control and healing from it.
In 1995 when the US National Security Act was invoked on her testimony for US Congressional Permanent Select Committees on Intelligence Oversight, it was released en masse through her book she wrote with Mark Phillips TRANCE Formation of America.
Cathy became a 'candidate' for MK Ultra mind control due to a dissociative disorder developed from incest. As detailed in TRANCE, Cathy's pedophile father Earl O'Brien sold her into MK Ultra due to his illicit connections into a local Michigan Mafia child pornography ring sanctioned by local politician Gerald Ford. As Ford's political career escalated to heading the infamous Warren Commission that reportedly investigated the Kennedy Assassination and to becoming President of the US, Cathy's victimization rose proportionately.
Through systematic torture and well documented NASA/military mind control programming, Cathy was forced to do the "unthinkable" and participate in CIA Black Ops and White House/Pentagon level operations during the Reagan/Bush Administration.
In 1988, intelligence insider Mark Phillips rescued Cathy and her then 8 year old daughter, Kelly. Using methods gained in mind sciences, he taught Cathy how to remember what she'd been programmed to forget and reclaim control over her own mind and life. These methods are detailed in both ACCESS DENIED For Reasons of National Security and PTSD: Time to Heal.
Now as US Government Whistleblowers, Cathy O'Brien and Mark Phillips continue speaking out worldwide to public and private groups including the UN and World Bank, law enforcement, mental health professionals, and numerous survivors of varying levels of trauma, abuse, PTSD, torture and/or control seeking to reclaim control over their minds and lives.