Project Monarch MK Ultra survivor Cathy O'Brien and CIA operative Mark Phillips share How to Survive Mind Control with Frater X discussing their new book Access Denied and solutions to trauma as well as paths to healing.
Joseph Atwill author of the groundbreaking work Caesar's Messiah which posits how the Roman Flavians invented Jesus and Christianity as a psi-op mind control program to shows up 2nd hour to discuss the new release of the Caesar's Messiah DVD!
---
Listen on: FreemanTV | Stitcher | iTunes | YouTube | RSS
---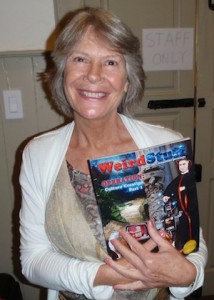 The Free Your Mind series of conferences feature world renown whistle-blowers from around the world who gather together to shed light upon our world's problems and bring forward empowering solutions. The main focus of the Free Your Mind conferences is to spread awareness on the topics of consciousness, mind control, subversive occult influences, holistic body-mind-spirit health, and solution-oriented approaches to the problems humanity faces in these challenging times.

Watch more Free Your Mind Videos
Cathy O'Brien has asserted she possesses memories retrieved through the use of hypnosis. The specific program which she claimed was responsible for her dissociative identity disorder, Project Monarch, is not mentioned in reviews of MKULTRA, its alleged parent program. Because most MKULTRA records were deliberately destroyed in 1973 by order of then CIA Director Richard Helms, it has been difficult, if not impossible, for investigators to gain a complete understanding of the more than 150 individually funded research sub-projects sponsored by MKULTRA and related CIA programs.
Cathy states that she has a recollection of child abuse — of her and her daughter — by international pedophile rings, drug barons and satanists, as part of a sex slave aspect to her "trauma based mind control programming." Individuals from United States, Canadian, Mexican and Saudi Arabian government officials to stars of the Country and Western music scene are among those she accuses of these crimes.