What government needs propaganda when its own citizens create the alternative facts? How do you feel about swearing on the Bible in court? Does it matter? Is it blasphemy? Could the Bible hold the codes necessary to free the person from his legal fiction, the strawman? Is it merely a trick of legal words and images that enslaves the mind? To tell the story of the cyphered dictionaries of man's legalese and false law while at the same time deciphering (defining the correct but lost meanings of terms) of the scriptural story of the Natural, Highest Law is a path that can't be taken alone. The law you choose to follow defines your choice of masters. God (the Reality of Nature) or the legal fiction of mammon (money). Will you have a crisis of consciousness?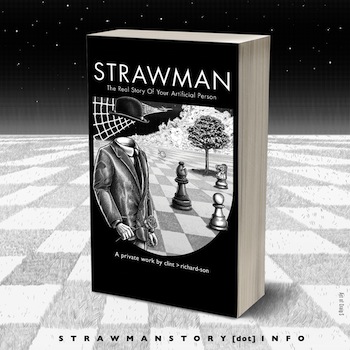 Clint Richardson is a certified sound engineer and former Hollywood sound designer that quit his career due to the corruptive influence he realized he was a part of, and after the harsh realization that he was in some way responsible for today's drone pilots in the military bombing real people (mostly women and children as "collateral") as if they were in a video game conditioned kids into growing up without a capacity for empathy. He survived cancer at 17, leading to a connection with vaccines and ultimately his vaccine documentary called "Lethal Injection," 
His website is StrawmanStory.info
Now outspoken against and thus blackballed from his professional industry, Clint is stuck with an impressive but useless resume, he became a full-time activist in 2009, a researcher, documentary film-maker, radio show host and guest, and now author of his first book in a series entitled "Strawman: The Real Story Of Your Artificial Person," which he is glad to give away free in pdf form. All his work has and always will be given freely.
Clint watched the World Trade Center fall from the roof in Manhattan where he lived across the street from the missing persons center and a block away from St Vincent's Hospital, where people were lined down the street to give blood... to no avail. He saw first hand what it is like for the grocery stores to run out of food and water when no supply trucks were allowed to enter the island.