Don Peyote is coming to theaters near you! Here are the scheduled dates. If you are in California, join the Don Peyote Bus Tour! Meet Dan Fogler and members of the cast as we screen Dan's new hit movie that is sure to open minds to the fact that life is not what most people think! [Watch the trailer]
[Watch Don Peyote on iTunes May 9th]
Get your tickets now...
Fri 5/16 LA opening at Arena Cinema, 1625 N. Las Palmas, Hollywood
Sun 5/18 LA TO OAKLAND
6:00pm screening at The New Parkway Theater, 474 24th St., Oakland
Buy tickets
Mon 5/19 Possible screening in San Francisco or Palo Alto (Not confirmed)
Tue 5/20 BIG SUR
8:30pm screening at Henry Miller Memorial Library, 48603 Hwy 1, Big Sur
Buy tickets


Wed 5/21 SAN LUIS OBISPO
7:00pm screening at Downtown Cinema, 888 Marsh St., San Luis Obispo
Buy tickets
Thu 5/22 SANTA BARBARA
7:00pm screening at Camino Real Cinemas, 7040 Marketplace Dr., Goleta
Buy tickets
Fri 5/23 Screening at Lightning in a Bottle Festival in Temecula with Daniel Pinchbeck
Sat 5/24 RETURN TO LA
Cheech & Chong at the Greek
Buy tickets
---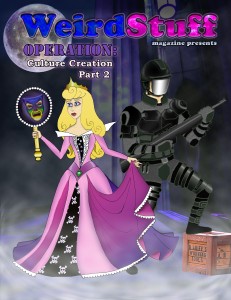 We will have special
Don Peyote editions of Weird Stuff Part 2.
Weird Stuff is an occult conspiracy encyclopedia in an easy-to-read fully illustrated magazine format.
Get your copy now and have the cast of Don Peyote sign it!
Get Weird Stuff Part 2
---

Adventures of Warren Allman, LSD, Daniel Pinchbeck, Hanukkah, and Cleopatra's Needle. Mars Needs Moms, Type O Negative, Walt Disney Co, Moon Lake and Dan's New Daughter! Photography from Don Peyote