FreemanTV is sponsored by you. Please show your support and help me continue to bring you thought-provoking information.
---
Watch Aliens From Hell for $4.99
Watch Frater X – Secret War on Consciousness for $4.99
---
---
From Lady Gaga to Barack Obama, the occult affects us all. Watch 100′s of hours of documentaries on the Illuminati's use of the "Dark Arts" in politics, movies, and music. Learn what you need to know to keep your family safe from mind control. Learn the true meaning of symbols around you. Witness "High Profile Rituals" being performed.
Has Satan removed his disguise?
This is where the esoteric meets the political.
---
---
Where else will you find Aleister Crowley, Walt Disney, Lady Gaga, the Queen, and Barack Obama all in one conspiracy theory?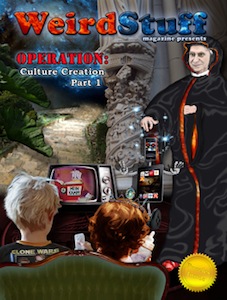 Weird Stuff is an encyclopedia of the occult in pop culture, politics, and new technologies. There has never been a book like it! Explore "High Profile Rituals" on prime-time television. Understand how your children are being programmed to kill with "Princess/Warrior" propaganda. Discover the truth about science fiction and technologies used to control your mind. Weird Stuff goes where only the few dare tread!

$19.95 Weird Stuff Operation: Culture Creation Part #1